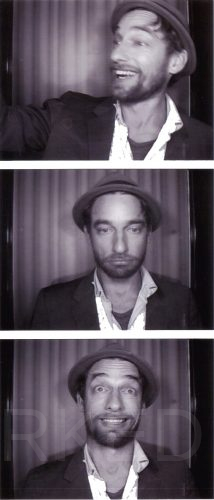 In 2012 Lachlan won the Impress Prize for The Lost Journals of Pedro Piscator and other Tales, an eclectic illustrated collection of tall tales published by Impress Books (UK). His writing has been published in Going Down Swinging, Page Seventeen and VIVID.
Lachlan is artistic director of Sanctum Theatre, a visual performance company presenting live art in everyday spaces since 2006, a lens through which monstrous apparitions are made manifest, tearing fissures in the fabric of monotony (sanctumtheatre.org).
Sanctum Theatre's most recent productions include collaborations with Little Projector Company: Invasion of the LANIMALS! (lanimals.org.au); and Magic Lantern Studio: The Man Who Cannot Sleep (White Night 2018) and Life is a Carousel (Green Room Award 2017).
In 2018 Lachlan launched Sanctum Studio with his wife, Jasmine Powell. Sanctum Studio is a dynamic new arts space in the North Eastern suburbs of Melbourne creating public art, street art, giant puppets, sets and costumes for festivals, arts companies, government and commercial clients (sanctumstudio.com.au). Lachlan's most notable mural is Life on Planet Daisyworld (2015), 30 x 10m, in Fitzroy, Melbourne.
Lachlan also works for the anarchic giant puppet company, Snuff Puppets, touring with them throughout Australia, as well as to Denmark, Sweden, Germany, Portugal, South Korea, Thailand, Brazil and Chile (snuffpuppets.com).
Lachlan lives on a permaculture property on the outskirts of Melbourne with his wife and son.